SA-Nethost.com - affordable Linux website hosting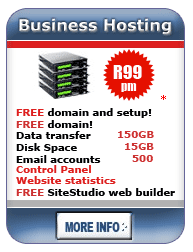 We offer linux website hosting for personal and business websites. We strive to ensure that you as the client only get the best service, and hosting package to suit your needs.
We have an alliance in place with major service providers in the US, so that we can offer you a superior product to what is currently on offer in SA.
We like to give you a complete linux web hosting package, so that there are no nasty surprises at the end of the month, and also to ensure that your hosting payments don't fluctuate. With this in mind, we set aside 15GB of web space on our linux servers, 150GB data transfer and 500 email accounts for your company, as soon as you become a customer. (regular SA hosting companies only give you a few megabytes for hosting, +- 1GB data trasfer, and 10 email accounts) We also setup the account for free, and give you 1 FREE domain name.
Our linux servers are based in California, allowing us to take advantage of the low bandwidth costs of the US, and the super fast internet infrastructure.
Our linux web hosting packages are suitable for everyone, from novices to technically advanced experts.
The SA-Nethost.com all-inclusive web hosting service consists of fast and stable servers (Dual Opteron 244™; 2 GB RAM; 2 x 250 GB HDDs in RAID 1).
| | |
| --- | --- |
| If you are a web designer email us for resell account details | |
If you don't have a website, make use of SiteStudio

Our packages also include SiteStudio, a program that will enable you to design your own website.
YOUR WEBSITE CAN GO LIVE IN ABOUT 10 MINUTES. NO TECHNICAL KNOWLEDGE OR
SPECIAL SKILLS ARE REQUIRED!
Explore our rich database of over 70 business-oriented templates in different color schemes. For more on SiteStudio, follow this link, alternatively, Email us for information!